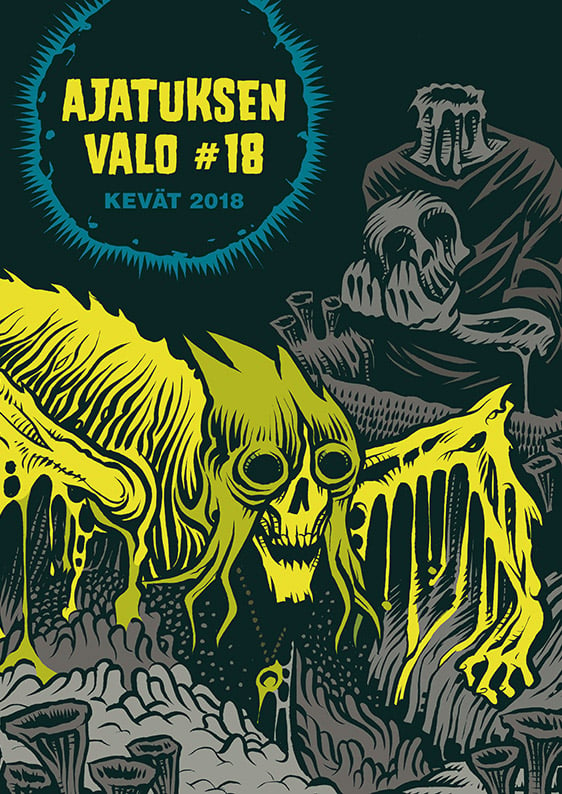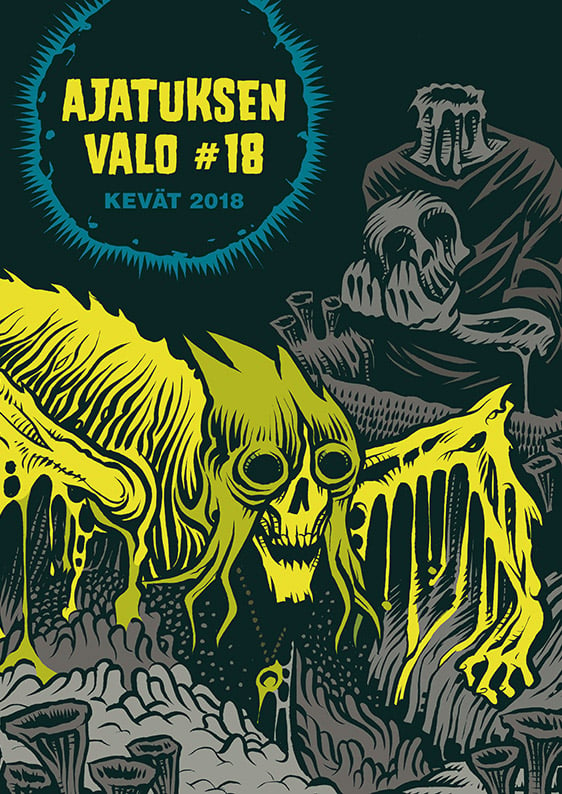 Ajatuksen Valo # 14 - 18
€5.00
Issue 18 is possibly the best Ajatuksen Valo yet... but isn't that what you always say when you create something new? Anyway, this second issue of Happokanttori-trilogia gives you the interviews of photographer and hardcore dude Jetro Stavén, hardcore bands Sick Urge and Gray State plus melodic punk rock band The Phoenix Foundation. Also there's some writing related to personal crises, gigs, reviews, photography and some other neat stuff. It's 80 A5-sized pages in black & white fashion, apart from the tasteful cover art by Marko Latva-Nikkola. In Finland we have this thing called Finnish language. 5 €! Take it or take it!
-------------------------------------------
Remember what was said about the evolution of Ajatuksen Valo in the introductionary piece of the issue 17? Forget that, war, the problems of the world and personal feelings, because the summer is here! Read the summer interviews with One Hidden Frame, Jätä Jämät, Vesa Ahonen and Vadelma Äijä. Spend your time with the summer crossword puzzle and the summer centerfold! Angry Anderson spending time in a football match, in the summer! No reviews, because it's summer! 40 pages of summer! The cover art is colorful and full of summer madness and Vietnam flashbacks! Finnish summer language! The summer price for this ordeal is 3 €. GET SOME!
-------------------------------------------
The 17th issue takes further leaps into being partially a photozine. There's more photography related content than before, including photo pages and writings about photography. But of course, it's still mostly music oriented. There's interviews with Rotten Sound, Haltlose and Cross to Bear, plus reviews, articles about japanese crust punk, Puntala-rock and Hässäkkäpäivät festival reports, city of Kotka, Despise You, Joe Pesci and books related to Cro-Mags. Plus some other stuff! 88 A5 sized pages in black and white. Finnish language used again!
-------------------------------------------
The 16th regiment of Ajatuksen Valo includes the interviews with Mörkhimmel, 偏執症者 (Paranoid), Crutches, Vuosi Nolla, Dioretix and Death Toll 80K. If there's a theme on this issue, it's war: possibly one of the most used and cliché-ridden themes within the punk community, but still necessary. Ajatuksen Valo approaches the war from a wide angle of perspectives: movies, a Louis Wain article and some other more or less war-related articles. Once again, there's plenty of reviews and other walls of text written in Finnish. 88 pages, some color on the cover and a handy A5 size.
-------------------------------------------
The 15th issue of Ajatuksen Valo is centered on single persons instead of bands. There's just four interviews: Tuomas Ryhänen (Armageddon Clock, Rift, Mustat Levyt record store), JP Jakonen (Abbot, solo artist), Toni Salminen (Lighthouse Project, Kesä, Tikari) and Ville Valavuo (Speedtrap, Perikato, Hard Action, Death Toll 80K). The rest of the content are some pieces of text more or less about Aaron Melnick, Craig Lewis, Brian Epstein, and Jörgen Petersen just to name a few. It's still a mishmash, because some pages deal with the editor's personal issues and thoughts, while some of them are more or less reviwing the most recent efforts by the persons in question. There's also the good old review and 3/5 sections. 76 A5 sized pages and of course almost entirely in finnish. And look at the cover: there's color!!!
-------------------------------------------
The 14th issue of Ajatuksen Valo marks yet another return to "goodies for everyone" kind of approach, without any specific theme. This time we have interviewed Dead Moose / Submission, Litovsk, The Carnival, Uhrit, Ydintuho and The Escapist. The record review section has awaken from it's short hibernation, 3/5 visited Soviet Union, we remember that Lapinlahden Linnut wasn't always a joke band and we also visited Porispere festival and wrote about Bad Religion. As always, this 80-page treat is entirely finnish-written.
-------------------------------------------
13th issue of Ajatuksen Valo is dedicated to the town which started it all: Hämeenlinna. In short, there's interviews with Dachau, Pyhäkoulu, Horros, Long Gone and some geezers who identified themselves as "13 Crew" the 90s. There's also some other written word about the city of shattered dreams. 88 pages of black & white misery in neat A5 size. Written in finnish, again!
-------------------------------------------
It's the 12th coming of Ajatuksen Valo zine, once again in A5 format and in finnish language. 84 neat pages contain interviews with Coke Bust, The Reality Show, Buried at Last and Agent Attitude. Hardcore focused? Maybe, but we also interviewed Deep Space Destructors and Bad Penny. We also wrote some articles about some shows (eg. Lutakko Liekeissä, Anterok 6, Negative Approach) and some artists (Martti "Huuhaa" Innanen, Septic Death and Taiska) and some other shit too.
-------------------------------------------